Buick LaCrosse: Storing a Flat or Spare Tire and Tools With a Slide In Fastener
Buick LaCrosse: Storing a Flat or Spare Tire and Tools With a Slide In Fastener
1. If the flat tire is larger than the spare tire, use the longer mounting bolt.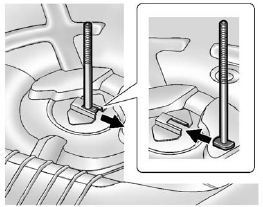 2. Slide the shorter bolt to remove it from the floor and insert the longer one.
3. Replace the jack and tools in their original storage location.
4. Place the tire, lying flat, facing up in the spare tire well.
5. Turn the retainer nut clockwise to secure the tire.
6. Place the floor cover on the wheel.
The compact spare is for temporary use only. Replace the compact spare tire with a full-size tire as soon as you can.

Compact Spare Tire
WARNING! Driving with more than one compact spare tire at a time could result in loss of braking and handling. This could lead to a crash and you or others could be injured. Use only one co ...
See also:
Three-way catalytic converter
Keep your engine properly tuned. Certain engine malfunctions, particularly involving the electrical, fuel or distributor ignition systems, may cause unusually high threeway catalytic converte ...
Cleaning the exterior
WARNING: If you use a car wash with a waxingcycle, make sure that you removethe wax from the windscreen. CAUTIONS: Some car wash installations usewater at high pressure.
Related news