Buick LaCrosse: Video Screens
The video screens are located in the back of the driver and front passenger seats.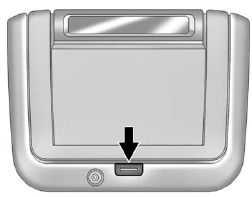 To use the video screen:
1. Push the release button located on the seatback console.
2. Move the screen to the desired viewing position.
Push the video screen down into its locked position when it is not in use.
The screen turns off automatically.
Only the left RSE seatback console contains the infrared transmitters for the wireless headphones. They may be visible as eight illuminated LEDs.
These LEDs are not on the right video screen. Both seatback consoles contain an infrared receiver for the remote control. They are located at the top of each console.
Notice:
Avoid directly touching the video screen, as damage may occur. See "Cleaning the Video Screens" later in this section for more information.

Audio Output
Audio from the DVD player or auxiliary inputs can be heard through the following: • Wireless Headphones • Vehicle Speakers The RSE system transmits the audio signal to the wireless head ...

Video Screen Input Jack
Each video screen is equipped with a video input jack to allow video cables to be connected from an auxiliary device such as a camcorder or a video game system. This signal will override any ...
See also:
Highway Hypnosis
Always be alert and pay attention to your surroundings while driving. If you become tired or sleepy, find a safe place to park the vehicle and rest. Other driving tips include: • Keep the v ...
How Does an Airbag Restrain?
In moderate to severe frontal or near frontal collisions, even belted occupants can contact the steering wheel or the instrument panel.
Related news