Chevrolet Cruze Repair Manual: SIR System Description and Operation
SIR System Overview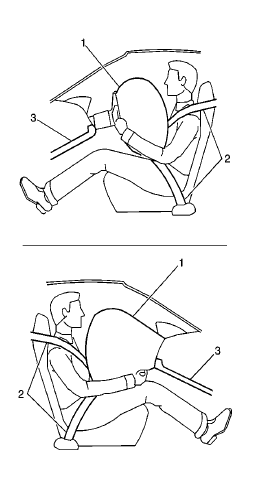 The supplemental inflatable restraint (SIR) system supplements the protection offered by the occupants Seat Belt System (2). The SIR system may contain several inflator modules located throughout the vehicle, i.e. steering wheel module (1), instrument panel module (1), or roof rail modules (1). In addition to inflator modules, the vehicle may contain seat belt pretensioners (2) that tighten the seat belt in the event of a collision, thus reducing the distance between the occupant and the seat belt when an inflator module is deployed. Each inflator module has a deployment loop that is controlled by the inflatable restraint sensing and diagnostic module (SDM) mounted inside the vehicle. The SDM determines the severity of a collision with the assistance of various sensor inputs located at strategic points on the vehicle. When the SDM detects a collision, it will process the information provided by the sensors to further support air bag or pretensioner deployment. The SDM will deploy the frontal air bags and pretensioners if it detects a collision of sufficient force. If the force of the impact is not sufficient to warrant inflator module deployment, the SDM may still deploy the seat belt pretensioners. The SDM performs continuous diagnostic monitoring of the SIR system electrical components. Upon detection of a circuit malfunction, the SDM will set a DTC and inform the driver by illuminating the AIR BAG indicator. The steering column (3) and knee bolsters (3) are designed to absorb energy and compress during frontal collisions in order to limit leg movement and decrease the chance of injury to the driver and passenger.
Other materials:
Door Locks
To lock or unlock the vehicle from outside, use the Remote Keyless Entry (RKE) transmitter or the key. From inside the vehicle, use the power door lock switch. Power Door Locks : Press to unlock the doors. : Press to lock the doors. Safety Locks The rear door safety locks prevent passenge ...
Older Children
Older children who have outgrown booster seats should wear the vehicle safety belts. The manufacturer instructions that come with the booster seat state the weight and height limitations for that booster.
Related news