Chevrolet Sonic Owner's Manual: Engine Heater
The engine heater can provide easier starting and better fuel economy during engine warm-up in cold weather conditions at or below −18°C (0°F). Vehicles with an engine heater should be plugged in at least four hours before starting.
1. Turn off the engine.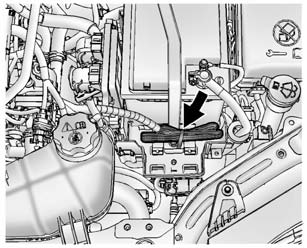 2. Open the hood and unwrap the electrical cord. The cord is located in the driver side of the engine compartment, near the battery. It is shipped from the factory with a tie holding it in place. Use care in removing the tie so that the cord is not damaged.
3. Plug it into a normal, grounded 110-volt AC outlet.
Warning
Plugging the cord into an ungrounded outlet could cause an electrical shock. Also, the wrong kind of extension cord could overheat and cause a fire. You could be seriously injured. Plug the cord into a properly grounded three-prong 110-volt AC outlet. If the cord will not reach, use a heavy-duty three-prong extension cord rated for at least 15 amps.
4. Before starting the engine, be sure to unplug and store the cord as it was before to keep it away from moving engine parts. If you do not it could be damaged.
The length of time the heater should remain plugged in depends on several factors. Ask a dealer in the area where you will be parking the vehicle for the best advice on this.

Starting Procedure
1. With your foot off the accelerator pedal, turn the ignition to START. When the engine cranks, let go of the key. The idle speed will go down as the engine gets warm. The vehicle has a Computer ...
Other materials:
Finish Care
Application of aftermarket clearcoat sealant/wax materials is not recommended. If painted surfaces are damaged, see your dealer to have the damage assessed and repaired. Foreign materials such as calcium chloride and other salts, ice melting agents, road oil and tar, tree sap, bird droppings, ...
Engine Front Cover and Oil Pump Assemble
Oil Pump Installation Note: The oil pump slide spring and pin, as well as the slide seal and slide seal spring can be ordered as single parts. All other oil pump components can only be ordered as a replacement kit. Install the oil pump components in the fo ...
Charge Air Cooler Replacement
Charge Air Cooler Replacement Callout Component Name Preliminary Procedures Disconnect the negative battery cable. Refer to Battery Negative Cable Disconnection and Connection. Raise and properly support the vehicle.
Related news