Chevrolet Sonic Owner's Manual: Steering Wheel Controls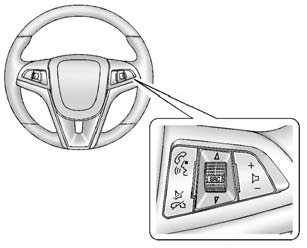 Some audio steering wheel controls could differ depending on the vehicle's options. Some audio controls can be adjusted at the steering wheel.

/


(Push to Talk): For vehicles with Bluetooth
or OnStar, press to interact with those systems. See Bluetooth (Voice Recognition) or Bluetooth (Overview) or Bluetooth (Infotainment Controls) or OnStar Overview.

/


(Mute/End Call): Press to reject an
incoming call, or end a current call. Press to silence the vehicle speakers while using the infotainment system. Press again to turn the sound on.
For vehicles with OnStar or Bluetooth systems, press to reject an incoming call, or end a current call.

SRC


(Source): Press to select an audio
source.
Use to toggle up or down to select the next or previous favorite radio station or CD/MP3 track.

(Volume): Press + or − to increase
or decrease the volume.

Steering Wheel Adjustment
To adjust the steering wheel: 1. Pull the lever down. 2. Move the steering wheel up, down, forward, and backward. 3. Pull the lever up to lock the steering wheel in place. Do not adjust the stee ...

Press on the steering wheel pad to sound the horn. ...
Other materials:
Torque Steer Description
A vehicle pulls or leads in one direction during hard acceleration. A vehicle pulls or leads in the other direction during deceleration. The following factors may cause torque steer to be more apparent on a particular vehicle: A slightly smaller diameter tire on the right front increa ...
Strut, Strut Component, or Spring Replacement
Disassembly Procedure Remove the strut assembly from the vehicle. Refer to Strut Assembly Removal and Installation.
Related news