Installing forward facing child restraint
Installing forward facing child restraint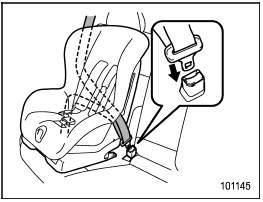 1. Place the child restraint system in the rear seating position.
2. Run the lap and shoulder belt through or around the child restraint system following the instructions provided by its manufacturer.
3. Insert the tongue plate into the buckle until you hear a click.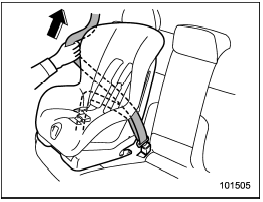 4. Take up the slack in the lap belt.
5. Pull out the seatbelt fully from the retractor to change the retractor over from the Emergency Locking Retractor (ELR) to the Automatic Locking Retractor (ALR) function. Then, allow the belt to rewind into the retractor. As the belt is rewinding, clicks will be heard which indicate the retractor functions as ALR.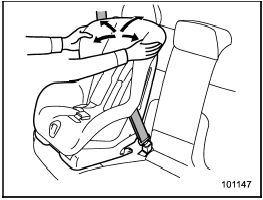 6. Before having a child sit in the child restraint system, move it back and forth and right and left to check if it is firmly secured. Sometimes a child restraint can be more firmly secured by pushing it down into the seat cushion and then tightening the seatbelt.
7. Pull at the shoulder portion of the belt to confirm that it cannot be pulled out (ALR properly functioning).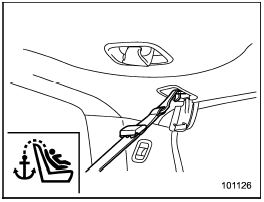 8. If the child restraint system requires a top tether, latch the hook onto the top tether anchorage and tighten the top tether. For additional instructions, refer to "Top tether anchorages".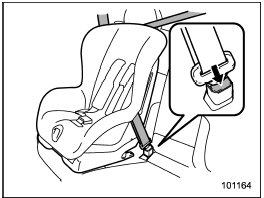 9. To remove the child restraint system, press the release button on the seatbelt buckle and allow the belt to retract completely. The belt will return to the ELR mode.
NOTE
When the child restraint system is no longer in use, remove it and restore the ELR function of the retractor. That function is restored by allowing the seatbelt to retract fully.
See also:
Engine exhaust gas (carbon monoxide)
WARNING ● Never inhale engine exhaust gas. Engine exhaust gas contains carbon monoxide, a colorless and odorless gas which is dangerous, or even lethal, if inhaled. ● Always properly m ...
Drinking and driving
WARNING Drinking and then driving is very dangerous. Alcohol in the bloodstream delays your reaction and impairs your perception, judgment and attentiveness. If you drive after drinking – even if ...
Rocking the vehicle
If you must rock the vehicle to free it from snow, sand, or mud, depress the accelerator pedal slightly and move the shift lever/select lever back and forth between "1"/"D" and "R" repeatedly.
Related news