Mazda 3 Owners Manual: Applicable Bluetooth specification(Recommended)
Mazda 3 Owners Manual: Applicable Bluetooth ® specification (Recommended)
Ver. 1.1/1.2/2.0 EDR/2.1 EDR/3.0 (conformity)
Response profile
A2DP (Advanced Audio Distribution Profile) Ver. 1.0/1.2
AVRCP (Audio/Video Remote Control Profile) Ver. 1.0/1.3/1.4
A2DP is a profile which transmits only audio to the Bluetooth ® unit. If your Bluetooth ® audio device corresponds only to A2DP, but not AVRCP, you cannot operate it using the control panel of the vehicle's audio system. In this case, only the operations on the mobile device are available the same as when a portable audio device for a non-compliant Bluetooth ® device is connected to the AUX terminal.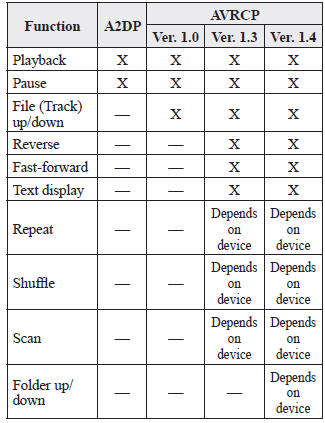 X: Available
—: Not available
NOTE
The battery consumption of Bluetooth ® audio devices increases while Bluetooth ® is connected.
If a general mobile phone device is USB connected during music playback over the Bluetooth ® connection, the Bluetooth ® connection is disconnected.

For this reason, you cannot have music playback over a Bluetooth ® connection and music playback using a USB connection at the same time.

The system may not operate normally depending on the Bluetooth ® audio device.
Other materials:
Maintaining the Finish
Washing CAUTION When the wiper lever is in the position and the ignition is switched ON, the wipers may move automatically in the following cases: If the windshield above the rain sensor is touched or wiped with a cloth. If the windshield is struc ...
Event Data Recorder
This vehicle is equipped with an event data recorder (EDR). The main purpose of an EDR is to record, in certain crash or near crash-like situations, such as an air bag deployment or hitting a road obstacle, data that will assist in understanding how a vehicle's systems performed. The EDR is ...
Rear Center Speaker Inspection
1. Disconnect the negative battery cable.. 2. Remove the following parts: a. Rear seat cushion. b. Rear scuff plate. c. Tire house trim. d. C-pillar trim. e. Rear package trim. f. Rear center speaker. 3. Verify the resistance between the rear center speaker terminals.
Related news