Mazda 3 Service Manual: Blower Motor Installation [Full Auto Air Conditioner]
1. Install theSST (49 B061 015A)
to the blower motor.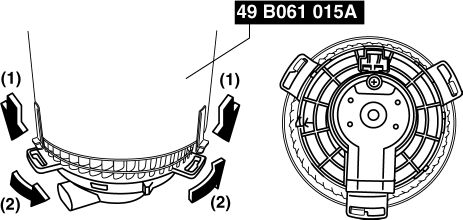 2. Install the blower motor with theSST (49 B061 015A)
installed, to the A/C unit.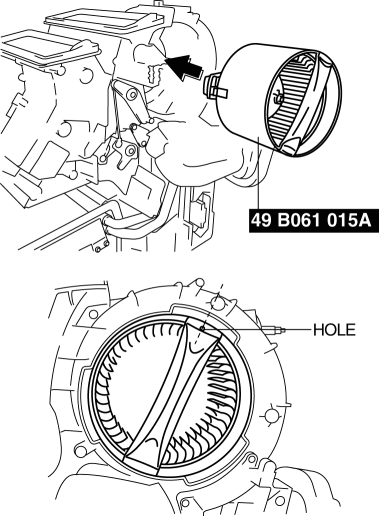 CAUTION:
To prevent damage to the sirocco fan, install the blower motor being careful that the blower motor does not interfere with the A/C unit. Also, another person must hold the blower motor at the installation position.
3. Rotate theSST (49 B061 015A)
until to the blower motor tab locked.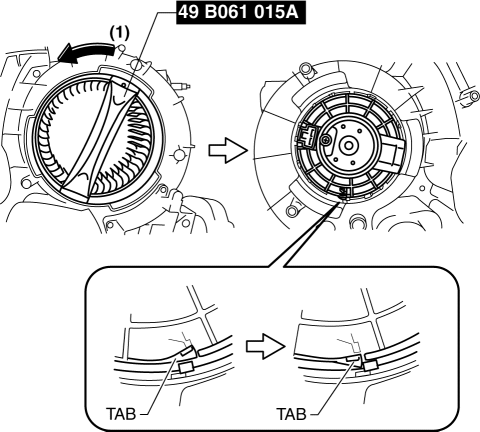 4. Connect the blower motor connector as shown in the figure.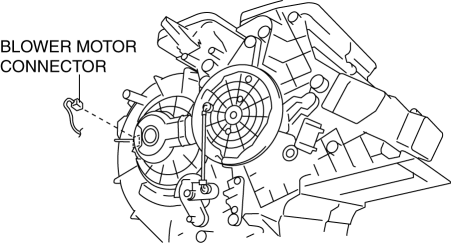 5. Connect the blower motor cooling pipe.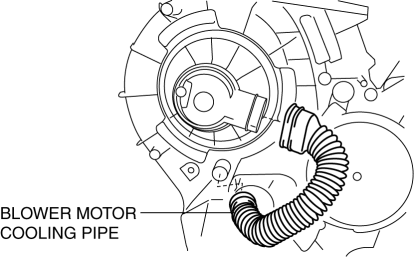 6. Rotate theSST (49 B061 015A)
in the direction shown by the arrow.
7. Remove theSST (49 B061 015A)
from the blower motor.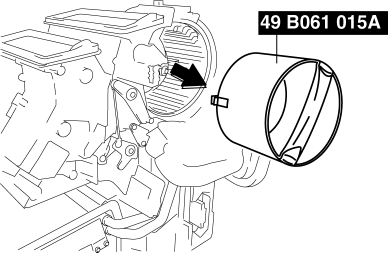 8. Install the blower case.
CAUTION:
Install the blower case while pressing the dashboard insulator, otherwise the blower case could be damaged.
9. Install the screws shown in the figure.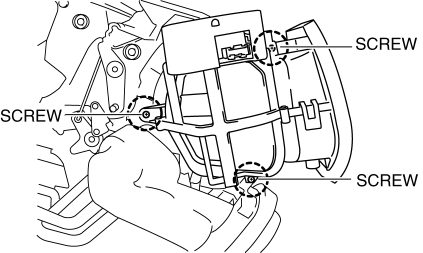 10. Install the harness clip to the blower case.
11. Connect the air intake actuator connector.
12. Install the following parts:
a. Accelerator pedal.
b. Shower duct (Passenger-side).
c. Lower panel.
d. Hood release lever.
e. Dashboard under cover.
f. Glove compartment.
g. Shift panel.
h. Selector lever knob (ATX).
i. Shift lever knob (MTX).
j. Upper panel.
k. Front side trim.
l. Front scuff plate.
13. Connect the negative battery cable..
Blower Case Installation Note
1. If not replacing the blower case, replace the adhesive polyurethane on the fresh-air inlet of the blower case.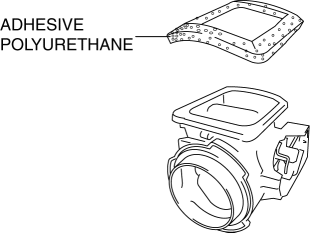 CAUTION:
To adhere new polyurethane properly, be sure to remove the adhesive agent and adhesive polyurethane completely.
NOTE:
If the blower case is removed or installed, the adhesive polyurethane can be damaged. Damaged adhesive polyurethane could cause abnormal noise or other malfunctions, therefore replace it.
Other materials:
Luggage Compartment
Luggage compartment cover (5-door) WARNING Do not place anything on top of the cover: Placing luggage or other cargo on top of the luggage compartment cover is dangerous. During sudden braking or a collision, the cargo could become a projectile that could hit and injure ...
Oil Cooler Removal/Installation [Mzr 2.0, Mzr 2.5]
WARNING: Hot engines and engine oil can cause severe burns. Turn off the engine and wait until it and the engine oil have cooled. A vehicle that is lifted but not securely supported on safety stands is dangerous. It can slip or fall, causing death or serious injury. Never work ...
Wheel Balance Adjustment
CAUTION: Adjust the outer wheel balance first, then the inner wheel balance. Be careful not to scratch the wheels. Adhesive-type Balance Weight (Outer) 1. Remove the old balance weight from the wheel. 2.
Related news