Mercedes-Benz E-Class: Locking and unlocking centrally
The SmartKey centrally locks/unlocks:
- the doors
- the trunk lid/tailgate
- the fuel filler flap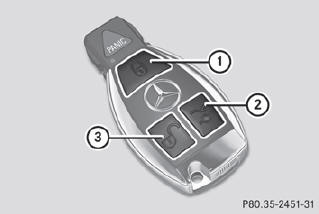 When unlocking, the turn signals flash once.
When locking, they flash three times
When it is dark, the surround lighting also comes on if it is activated in the on-board computer.
If you activate the acoustic locking confirmation function, you will hear the following, depending on the date of production of the vehicle:
- an acoustic signal when locking
or
- one acoustic signal when unlocking and three when locking.
The audible signal can be activated and deactivated using the on-board computer.
•►To unlock centrally: press the % button.
If you do not open the vehicle within approximately 40 seconds of unlocking:
- the vehicle is locked again.
- the theft deterrent locking system is armed again.
•►To lock centrally:press the & button.

General notes
USA only: This device complies with Part 15 of the FCC Rules. Operation is subject to the following two conditions: 1. This device may not cause harmful interference, and 2. this device must ...
See also:
Disarming the alarm
Disarm and silence the alarm by unlockingeither of the front doors or luggagecompartment with the key.
Related news