Nissan Rogue Service Manual: Diagnosis and repair workflow Nissan Rogue Service Manual: Diagnosis and repair workflow
Nissan Rogue Service Manual: Diagnosis and repair workflow
Work Flow
OVERALL SEQUENCE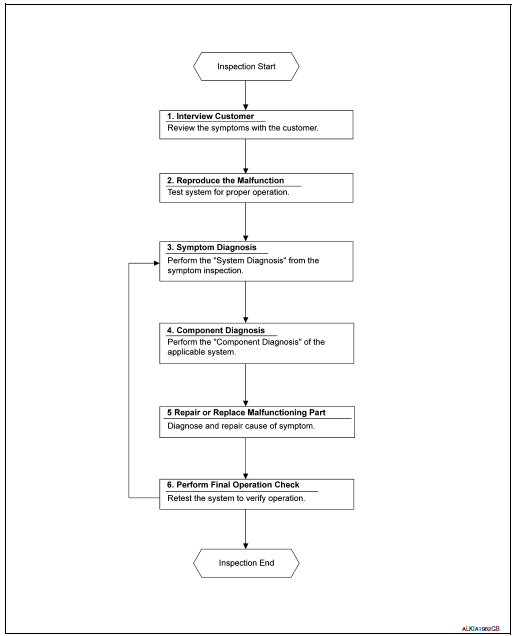 DETAILED FLOW
1. OBTAIN INFORMATION ABOUT SYMPTOM
Interview the customer to obtain as much information as possible about the conditions and environment under which the malfunction occurred.
>> GO TO 2.
2. CONFIRM THE SYMPTOM
Check the malfunction on the vehicle that the customer describes.
Inspect the relation of the symptoms and the condition when the symptoms occur.
>> GO TO 3.
3. IDENTIFY THE MALFUNCTIONING SYSTEM WITH SYMPTOM DIAGNOSIS
Use Symptom diagnosis from the symptom inspection result in step 2 and then identify where to start performing the diagnosis based on possible causes and symptoms.
>> GO TO 4.
4. PERFORM THE COMPONENT DIAGNOSIS OF THE OF THE APPLICABLE SYSTEM
Perform the diagnosis with Component diagnosis of the applicable system.
>> GO TO 5.
5. REPAIR OR REPLACE THE MALFUNCTIONING PARTS
Repair or replace the specified malfunctioning parts.
>> GO TO 6.
6. FINAL CHECK
Check that malfunctions are not reproduced when obtaining the malfunction information from the customer, referring to the symptom inspection result in step 2.
Are the malfunctions corrected? YES >> Inspection End.
NO >> GO TO 3.

Inspection and adjustment
ADDITIONAL SERVICE WHEN REMOVING BATTERY NEGATIVE TERMINAL ADDITIONAL SERVICE WHEN REMOVING BATTERY NEGATIVE TERMINAL : Description If any of the following work has been done Initial setting is nece ...
Other materials:
Diagnosis system (combination meter)
Description COMBINATION METER SELF-DIAGNOSIS MODE The following meter functions can be checked during Combination Meter Self-Diagnosis Mode: Pointer sweep of speedometer, tachometer and gauges. Illumination of all LCD segments and color patterns for meter displays. I ...
DTC/circuit diagnosis
U1000 CAN COMM CIRCUIT WITH INTELLIGENT KEY WITH INTELLIGENT KEY : Description Refer to LAN-8, "System Description". WITH INTELLIGENT KEY : DTC Logic DTC DETECTION LOGIC NOTE: U1000 can be set if a module harness was disconnected and reconnected, perhaps during a repair. Confirm ...
Removal and installation
CHASSIS CONTROL MODULE Exploded View Steering member Chassis control module Front Removal and Installation CAUTION: When replacing chassis control module, configuration of chassis control module is required.
Related news