Toyota Camry: Certification for the Blind Spot Monitor
FCC ID: OAYBSDTX
This device complies with part 15 of the FCC Rules. Operation is subject to the following three conditions:
(1) This device may not cause harmful interference.
(2) This device must accept any interference received, including interference that may cause undesired operation.
(3) This device may only work when the vehicle is in operation pursuant to § 15.252 (a) (4).
FCC WARNING
Changes or modifications not expressly approved by the party responsible for compliance could void the user's authority to operate the equipment.
CAUTION
■Cautions regarding the use of the system
The driver is solely responsible for safe driving. Always drive safely, taking care to observe your surroundings.
The Blind Spot Monitor is a supplementary system which alerts the driver that a vehicle is present in the blind spot. Do not overly rely on the Blind Spot Monitor. The system cannot judge if it is safe to change lanes, therefore over reliance could cause an accident resulting in death or serious injury. According to conditions, the system may not function correctly. Therefore the driver's own visual confirmation of safety is necessary.
■Handling the radar sensor
One Blind Spot Monitor is installed inside the left and right side of the vehicle rear bumper respectively. Observe the following to ensure the Blind Spot Monitor can function correctly.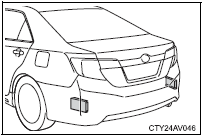 ●Keep the sensor and its surrounding area on the bumper clean at all times.
●Do not subject the sensor or surrounding area on the bumper to a strong impact. If the sensor moves even slightly off position, the system may malfunction and vehicles that enter the detection area may not be detected. If the sensor or surrounding area is subject to a strong impact, always have the area inspected by your Toyota dealer.
●Do not disassemble the sensor.
●Do not attach accessories or stickers to the sensor or surrounding area on the bumper.
●Do not modify the sensor or surrounding area on the bumper.
●Do not paint the sensor or surrounding area on the bumper.
Related news