Volvo S60: Lighting panel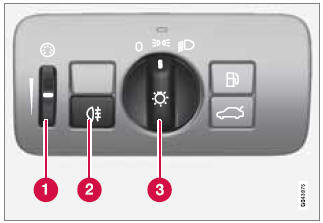 Overview, light switches
1 - Thumb wheel for adjusting display and instrument lighting
2 - Rear fog light
3 - Headlights/parking lights
Instrument lighting
Illumination of the display and instrument lights will vary, depending on ignition mode.
The display lighting is automatically subdued in darkness and the sensitivity is set with the thumb wheel.
The intensity of the instrument lighting is adjusted with the thumb wheel.

High/low beam headlights
Headlight switch and lever 1 - High beam flash 2 - Toggle between high and low beams High beam flash Move the lever toward the steering wheel to position 1.
Related news